[fruitful_sep]
LEVEL LOW VACUUM FILLING SYSTEM WITH RECIRCULATION
THE TRADITIONAL SYSTEM TO FILL JUICES IN A EASY WASHABLE FILLER
Recirculation filling valve, with membrane, without sliding parts in contact with the product.

External tanks for product feeding and recirculation / vacuum generation.

Upper product feeding tank with device for level control.

Lower tank with device for vacuum generation and recirculation pump.

Device for vacuum intensity adjustment on lower tank.

Small dimension central manifold for product distribution to the filling valves and return to the lower tank.

Machine predisposed for hot CIP with recirculation, in and counter flow, with dummy bottles designed for quick manual installation.

Parts in contact with the product in stainless steel AISI 316 (on demand).

Sealing rubber complying with food norms.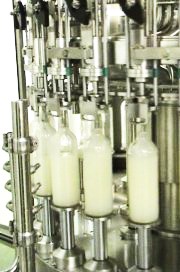 FOR HOT FILLING
Control temperature with PT100 probe in the lower tank to drive the electro valve on the delivery of the recirculation pump (temperature OK = recirculation to the upper tank, low temperature = return to the process).

Three ways infeed valve to send back the product to process in case of machine slow down or stop.

Small recirculation flow even during machine stop in order to maintain the machine temperature.

Possibility to realize external tanks with thermal insulation or with double jacket execution for hot water circulation to reduce the product temperature drop.
OPTIONS & DETAILS
[toggle_framed title="FOCUS ON: MEMBRANE FILLING VALVE"]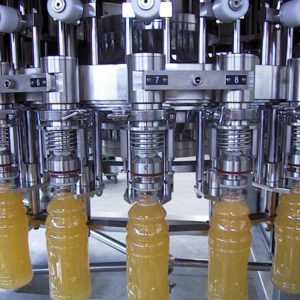 The filling valve is designed with an internal membrane that connects the moving part with the fixed part.
The solution allows not to have dead zones during the cleaning operations.
[/toggle_framed]
[toggle_framed title="FOCUS ON: EXTERNAL TANKS"]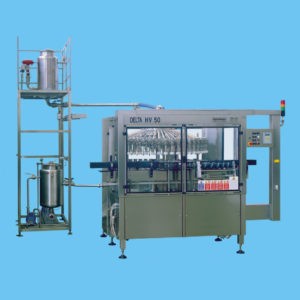 The tanks for product feeding and vacuum generation are outside the machine.
This solution allows to have small tanks easy to clean and easy to inspect.
[/toggle_framed]
[toggle_framed title="FOCUS ON: PRODUCT DISTRIBUTION"]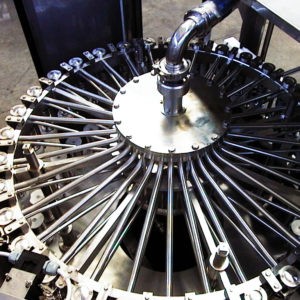 The distribution of the product from the central feeding pipe to the filling valves is realized with a small dimension manifold designed for easy cleaning.[/toggle_framed]
[toggle_framed title="FOCUS ON: VERSION WITH RECIRCULATION CONTROL"]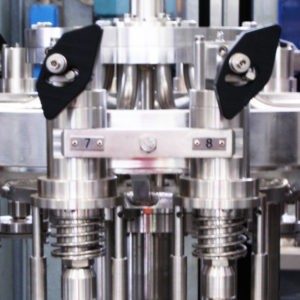 In case of necessity to reduce the recirculation, as option can be supplied a version with upper starwheel control that stops the product flow towards the filling valve.[/toggle_framed]
[toggle_framed title="FOCUS ON: VACUUM INTENSITY ADJUSTMENT"]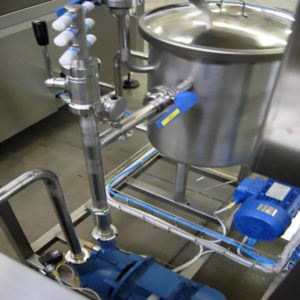 Vacuum intensity can be adjusted with a micrometric valve positioned on the vacuum pump exhaust pipe.
This solution allows adjusting the vacuum in function of the viscosity of the product, till arriving to use the filler only by gravity.[/toggle_framed]
[toggle_framed title="FOCUS ON:FILL LEVEL ADJUSTMENT "]

The filling valve terminal is designed in function of the application to meet the customer requirements.
For cold fill application it is possible to have:
Fixed but adjustable fill level sealing holder;
Changeable spacers;
Centralized manual fill height adjustment;
For hot fill application the terminal is realized to allow almost brim-full fill level.
separately from the machine.
[/toggle_framed]
[hr top="yes" class=""/]
Download Brochure
Water Filling system Metalnova