LG-EP – SOFT-DRINKS
LEVEL COUNTER PRESSURE FILLING SYSTEM WITH ELECTRO PNEUMATIC CONTROLS
THE EVOLUTION OF THE TRADITIONAL COUNTER PRESSURE FILLING SYSTEM
GENERAL FEATURES
Isobaric level filling system with electro pneumatic controls.

Level vent tube designed for quick connection.

Filling phases (bottle pressurization, anti-explosion position, product closure, decompression), realized with pneumatic valves, driven by electro valves.

Electro valves groups for filling valve controls installed in the upper part of the carousel to guarantee easy access.

Memorization of parameters set for each bottle size, with the possibility to select them from the operator touch screen panel.

Central bowl tested at 6 bar, with product feeding from the bottom. The bowl is internally polished and designed for easy draining.

Filling valves installed outside the bowl.

Upper part of the filling valve for CO2 opening (and consequent bottle pressurization) and anti-explosion position.

Lower part of the filling valve with pneumatic valve for decompression and pneumatic valve for CIP product passage.

Pressure control in the bowl by modulating valves on CO2 feeding and breathing driven by signals coming from pressure transducer positioned on the filler bowl.

Product level adjustment in the bowl by capacitive probe and modulating valve.

Lower manifold for product distribution and decompression gas return with special treatment the sliding parts to guarantee longer life.

Upper manifold for CO2, compressed air and electric signals distribution with special treatment in the sliding parts to guarantee longer life.

Decompression gas collection in one discharge point.

Parts in contact with the product in stainless steel AISI 304 (standard) or AISI 316 (on demand).

Sealing rubber complying with food norms.

Machine predisposed for hot CIP in recirculation (CIP group excluded).

Dummy bottles with manual set up.

Carousel frame manufactured in stainless steel AISI 304.

Pneumatic bottle lifters with neck bracket for PET bottles or with bottom plate for glass bottles.

Machine available in "neck handling" version (fixed height carrousel, typically used for PET bottles) or in "body handling" version (height adjustable carrousel, typically used for glass bottles).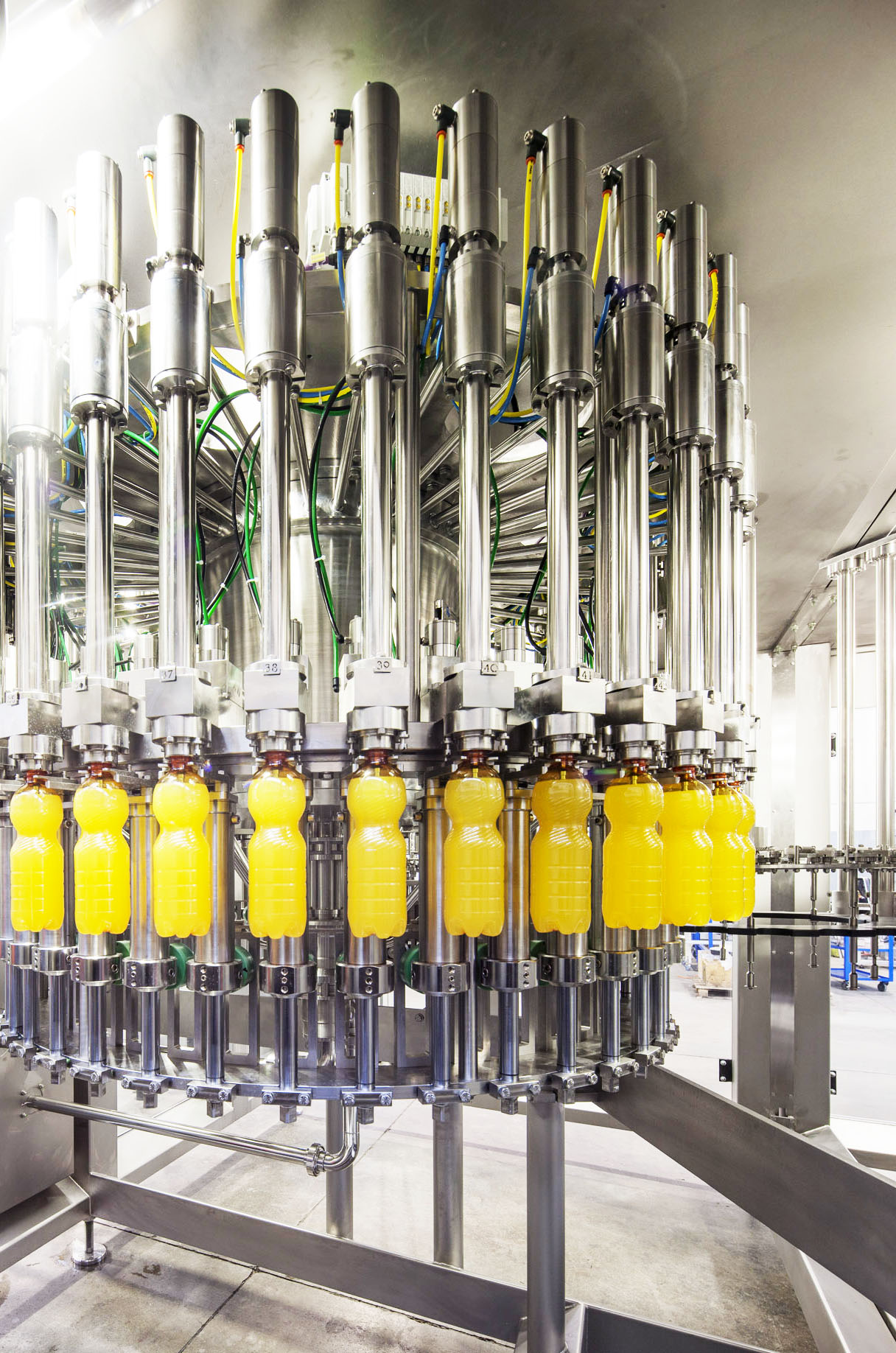 LG-EP FILLING SYSTEM (SOFT DRINKS)