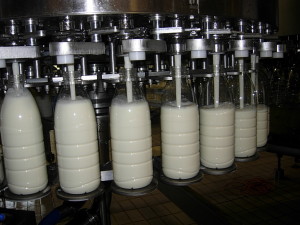 METALNOVA enters in the milk bottling field, supplying a rinsing filling capping monobloc for fresh milk in PET and glass bottles.
The supply is based on the best available technology, it means a monobloc with the BASELESS design and a volumetric electronic system VMAG.
The monobloc with the BASELESS designed encountered particular success with the customer, due to its high hygiene features very important in the milk field.
The electronic volumetric filling valve VMAG has been realised in a special release with membrane to guarantee the best cleaning.
The filler is equipped with an automatic system for dummy bottles positioning, that allows predisposing very quickly the machine for the cleaning and the production without entering inside and touching the parts after the cleaning.