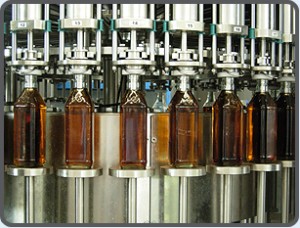 On the occasion of the supplying of a complete liquor bottling line, METALNOVA has presented a new low vacuum filling system for liquors and wines.
As usual the filling of these products is done by gravity with low vacuum to avoid dripping and guarantee level accuracy.
The news of the VP system is to realize the vacuum and product opening and closure operations with pneumatic controls.
This system allows the following benefits:
simplification of the mechanics of the machine;
 management of the filling phase setting each time from control panel;
 machine draining and recover of the production end with opening of the filling
valves in an arc of the carrousel equipped with collection tray.
 positioning of the product feeding tank outside the machine
 automatic bottle level adjustment.