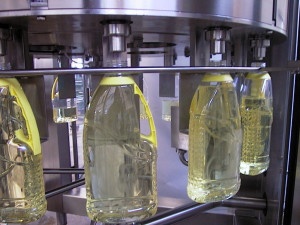 Exploiting the experience in the beverage with electronic volumetric filling, METALNOVA has realized the first rotary weight filler for oil.
The filling system is based on mass meters.
The benefits of the system are:
High filling accuracy.
Possibility of handling several bottle size doing simple adjustment from control panel.
High cleaning level thanks to the absence of contact between filling valve and bottle and to the elimination of the central product feeding tank, substituted with an external tank easy to be inspected and cleaned.